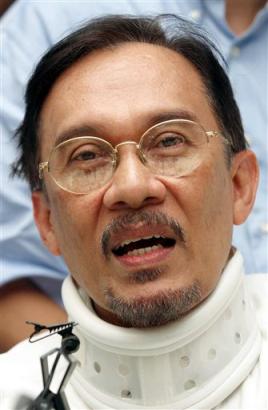 ANWAR IBRAHIM
ANWAR FREED
FROM BUM RAP
malaysia's highest court in the land freed on september 2, 2004 once-rising political star anwar ibrahim - exactly six years after he was sacked as deputy premier and finance minister.
the federal court freed anwar from what he called as trumped-up charges of sodomy, quashing aside the conviction and sentence. a bum rap it was, in many ways, though the court coram agreed that it did not disprove acts of homosexuality.
so one black eye, two general elections and countless court battles later, anwar ibrahim is back in action.
we shall watch with interest!
meanwhile, welcome to socialist malaysia.
all queries - good, bad and ugly - to the webcomrade.